All-Day Wild Basketry Bundle: Freeform & Coiled Kudzu Baskets with Nancy Basket
September 3, 2022
@
10:00 am
–
5:30 pm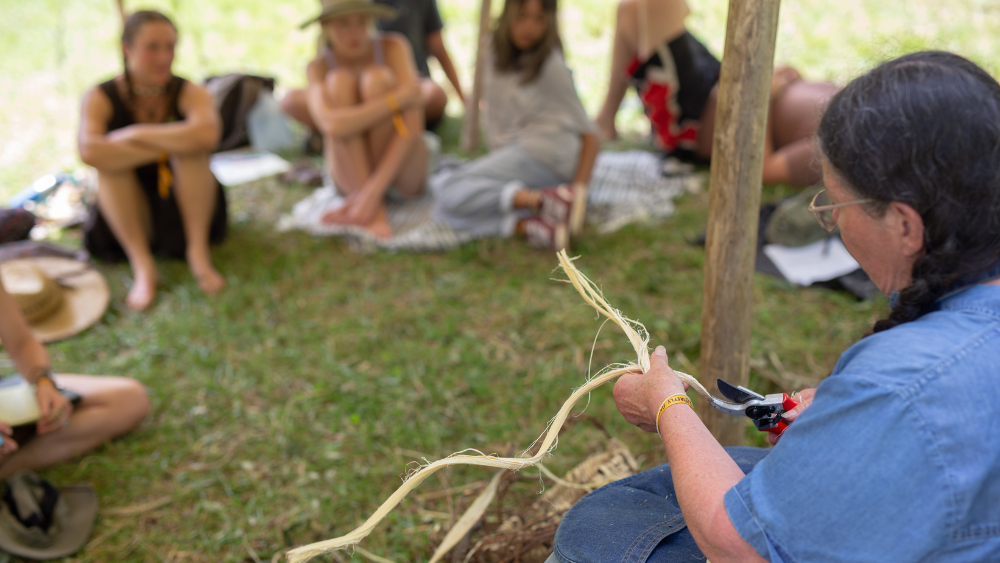 ALL DAY BASKETRY BUNDLE– enjoy both Wild Basketry classes with Nancy- and at a discount!
"Invasives, by any other name, just reach out quickly trying to find someone that loves them. That would be me. When gone too long, they look for me, even inside my house! What other cultures live with kudzu and wisteria as respected friends? Seeing potential baskets waiting to be fashioned, instead of weeds to be exterminated, could change your life."

~ Nancy Basket
Class Description
Join The Firefly Gathering's beloved Cherokee elder Nancy Basket in this all-day Wild Basketry session as she weaves a tale of humor, wisdom and indigenous stories during your hands-on learning.
In the morning, students willl learn what vines split, which branches can be bent to make rings, and how to use processed kudzu and wisteria to make a random freeform mushroom gathering vessel. After a break for lunch, continue your deep dive into kudzu gathering, processing, storing, dying, cloth weaving, and even building and culinary uses as you sew a coiled kudzu basket.
Photo Credit: Sarah Tew Photography
Workshop Details
These classed will be held outdoors under a covered pavilion on Saturday, September 3 with the first class (Freeform Kudzu Baskets) from 10:00am – 1:00pm, and the second class (Coiled Kudzu Baskets) from 2:30 – 5:30 in Weaverville, NC and is beginner-friendly!
About the Instructor
Nancy Basket is a beloved elder, basket maker, and storyteller. After many years of making baskets and establishing basket-making guilds across the country (including the Vi Phillips Basketry Guild / Northwest Basket Weavers), Nancy took her grandmother's last name. Nancy weaves baskets with pine needles, kudzu vines, and other wild plants that bend and form and adapt to the rhythms and stories of her wise hands.
Website: http://nancybasket.com/
Check out this sweet article about Nancy! It also shows off her coiled kudzu baskets: https://towncarolina.com/dream-weaver/
Equitable Pricing Model $125 – $55 (Class price includes $30 materials fee)
In order to make our workshops more accessible, we offer two price options for this bundled class, with an additional Equity Discount for qualifying individuals. Please consider these options and select your price at checkout.
Sponsor Price $125: For those who have enough to share, thank you for being a Sponsor. This is an opportunity to contribute towards the cost of the class for someone else.
Standard Price $90: The Standard reflects one person's share of what it costs to produce the class and cover basic expenses.
Equity Discount $55: We offer an additional Equity Discount for those from the following communities who support reparations and/or an equitable redistribution of wealth and would not have access to this workshop without this discount:
Thank you for helping to transform the world into a culture of abundance, resilience, and opportunity for all.
Which Price Option is Right for You?*
*Please check your pricing options before you register for your first Perennial Workshop. The pricing options are the same for all events, so you only need to do it once!
Related Events