Spoon Carving with Barron Brown
December 3, 2022
@
2:00 pm
–
6:00 pm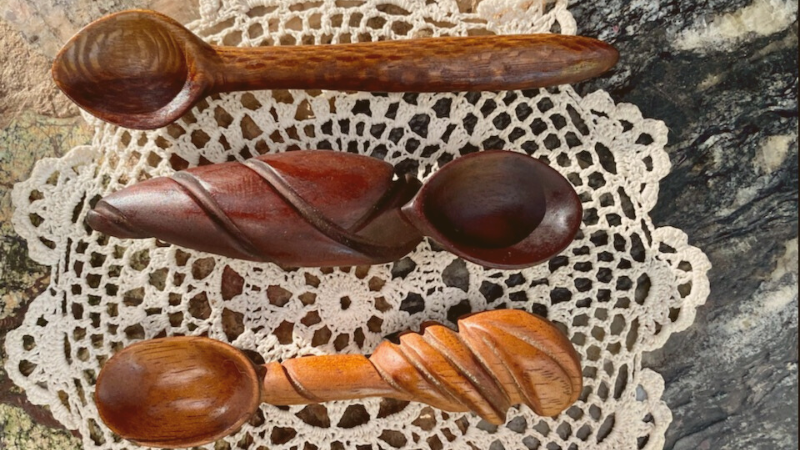 Photo credit Sarah Tew Photography
Spoon Carving with Barron Brown
Join beloved Firefly Gathering elder Barron Brown as he walks students of all experience levels down the path of carving a beautiful and functional spoon- just in time for the holidays!
In this class, Barron will cover:
The qualities of wood and how they behave as utensils
An introduction to basic carving tools (gauges, knives, sand paper)
Tool safety
The art and finesse of creating the bowl of the spoon with a gauge
Carving handles
How to sand to a smooth and polished finish
Most participants will finish their spoons, but some may only get to the point where it can be finished at home. All students will have the opportunity to take home additional materials for future carving!
Spoon Carving Workshop Details
Spoon Carving with Barron Brown will be held indoors on Saturday December 3 2022, from 2 pm – 6 pm near Asheville, NC.
This class is for everyone. Bring a sharp knife with a short blade (such as a Morakniv). Minimum age is 10, students under 16 must be accompanied by an adult].
IMPORTANT NOTE: Depending on the status of the COVID-19 virus in our area at the time of the class, participants in this Spoon Carving workshop may be required to wear a mask (Firefly Gathering and the instructor will make this decision by the week before the workshop). By registering for this class, participants agree to honor this parameter. Thank you for your understanding as we work together as a community to honor the needs of our elders.
About the Instructor Barron Brown
Barron (he/him) is a truly amazing jack-of-all-trades. He learned timber framing, post-and-beam construction, log cabin construction, and much more from his grandparents when he was a child and teenager. He currently works as a sculptor, welder and builder, as well as teaching carving, blacksmithing, and building. Barron is a joy to learn from, as he weaves together his many talents with deep intelligence and his great ability to explain concepts to anyone. Barron has taught at Firefly since its beginnings and has been an instructor with the Earthskills Rendezvous for more than 20 years. He lives on a homestead with his family in Yancey County, NC.
Equitable Pricing Model $65 – $25
In order to make our workshops more accessible, we offer two price options for each class, with an additional Equity Discount for qualifying individuals. Please consider these options and select your price at checkout.
Sponsor Price $65: For those who have enough to share, thank you for being a Sponsor. This is an opportunity to contribute towards the cost of the class for someone else.
Standard Price $45: The Standard reflects one person's share of what it costs to produce the class and cover basic expenses.
Equity Discount $25: We offer an additional Equity Discount for those from the following communities who support reparations and/or an equitable redistribution of wealth and would not have access to this workshop without this discount:
Thank you for helping transform the world into a culture of abundance, resilience, and opportunity for all.
Which Price Option is Right for You?*
*Please check your pricing options before you register for your first Perennial Workshop. The pricing options are the same for all events, so you only need to do it once!
Related Events