Neo Pre/Post Apocalyptic Blacksmithing: Intro to Blacksmithing with Tod Kershaw
August 20, 2022
@
11:00 am
–
5:00 pm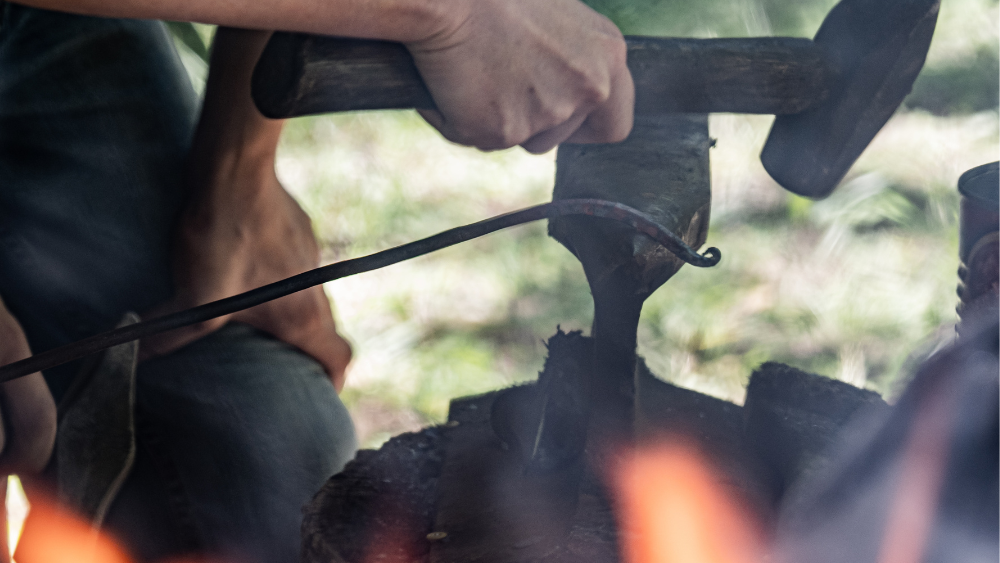 Class Description
Join the always entertaining Tod Kershaw, engineer turned off-grid dumpster diver extraordinaire, as he walks us through the ins and outs of DIY Blacksmithing, foraging for metal in the scrap heaps and so much more! This class will empower students to find metal, tools and fuel and teach you what to do with it. All of the materials in the class will be 100% found, foraged, reclaimed & reused…even the coal!
Students will be introduced to various types of metals, including where to find them and what to do with them. We'll also go over the various kinds of fuel that can be used and their pros and cons, as well as how to find, refurbish and make tools. Then we'll get into actual forging and each student will create a beautiful and functional metal hook.
Workshop Details
The class will be held in a covered outdoor space in Barnardsville, NC (30 minutes north of Asheville) on Saturday August 20, 2022 from 11am – 5pm. There will be half hour break for lunch – please bring a bagged lunch. Details about location will be emailed to class participants a week prior to the workshop.
This is a hands on class, and is for beginners to those with moderate experience. Minimum age is 12. Minors must be accompanied by an adult.
There are only 6 spots in the class, so register early.
About the Instructor
Tod Kershaw has been a Firefly Gathering instructor since its beginnings, in addition to teaching at Forest Floor Wilderness Programs and various earthskills gatherings throughout the southeast. An engineer turned dumpster-diving fringe dweller, Tod left the mainstream, but kept his cleverness.
Equitable Pricing Model $170 – $60 (Class price includes $5 materials fee)
In order to make our workshops more accessible, we offer two price options for each class, with an additional Equity Discount for qualifying individuals. Please consider these options and select your price at checkout.
Sponsor Price $170: For those who have enough to share, thank you for being a Sponsor. This is an opportunity to contribute towards the cost of the class for someone else.
Standard Price $115: The Standard reflects one person's share of what it costs to produce the class and cover basic expenses.
Equity Discount $60: We offer an additional Equity Discount for those from the following communities who support reparations and/or an equitable redistribution of wealth and would not have access to this workshop without this discount:
Thank you for helping to transform the world into a culture of abundance, resilience, and opportunity for
Which Price Option is Right for You?*
*Please check your pricing options before you register for your first Perennial Workshop. The pricing options are the same for all events, so you only need to do it once!
Related Events
November 5 @ 9:30 am

–

3:30 pm

November 11 @ 1:00 pm

–

4:00 pm

November 18 @ 10:00 am

–

2:30 pm