Hearth and Subsistence: Processing "Wild" Foods w/ matt hansen
April 1
@
9:00 am
–
April 2
@
5:00 pm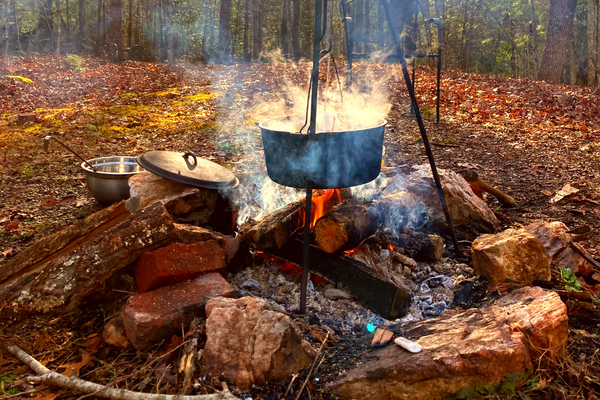 About "Wild" Foods Workshop
Join wise and wily veteran Firefly Gathering instructor matt hansen for a weekend around the hearth fire as we gather in community. Each of us will play an integral part building a hearth and processing some of the "wild" edible staples that sustain us. We will focus on working with wild rice (manoomin), acorn, and maize, while also covering food preservation techniques for nuts, fruit, meat, fat and greens. Before 1491, North America included many different subsistence patterns, but most included one of the three plants we will focus on. We will cook on an open fire and feast together, sharing stories and dance moves along the way.
In this class, participants will learn:
How to parch, dance, and winnow wild rice (and leave with a bag to share with folks back home)
How to grind rice into flour
How to build, maintain, and cook with fire
The process of Nixtamalization (turning corn into hominy) and making tortillas
The process of removing tannic acid from acorn and making ash cakes
About subsistence in North America before the industrialization of our food systems
Resources, recipes and tips for your wild-tending and fall wild edible harvests
Shoot, maybe you got something to teach us!
"Wild" Foods Workshop Details
This two day class will be held outdoors under a covered pavilion from Saturday April 1, 2023 to Sunday April 2, 2023 from 9am – 5pm (both days) in Barnardsville, NC.
This class is for everyone. Minimum age is 10, persons under 16 must be accompanied by paying adult.
Attendees are invited to bring garden or wild harvested food to contribute to group meals, as well as snacks, stories, instruments and songs to share to keep the dancers motivated. Extra credit goes to folks who bring roadkill to place upon our tacos.
About "Wild" Foods Instructor matt hansen
matt (he/him) has been stoked about "wild" food since he was a young buck exploring the southern california deserts. adventure and curiosity have driven matt to pursue hiking, biking, and floating trips all over north america, often with subsistence in mind. he studied education and graduated from Warren Wilson College ('07), works seasonally (plants, fishn, carpentry, teaching), and tries to rely on hands for calories. So-called "primitive" skills and community living have been a life-long passion of matt. He lives outside and is inspired by the forest dwellers, squatters and wilder-bums tending hearths and gardens in both urban and feral zones.
Equitable Pricing Model $225 – $85
In order to make our workshops more accessible, we offer two price options for each class, with an additional Equity Discount for qualifying individuals. Please consider these options and select your price at checkout.
Sponsor Price $225: For those who have enough to share, thank you for being a Sponsor. This is an opportunity to contribute towards the cost of the class for someone else.
Standard Price $155: The Standard reflects one person's share of what it costs to produce the class and cover basic expenses.
Equity Discount $85: We offer an additional Equity Discount for those from the following communities who support reparations and/or an equitable redistribution of wealth and would not have access to this workshop without this discount:
Thank you for helping transform the world into a culture of abundance, resilience, and opportunity for all.
Which Price Option is Right for You?*
*Please check your pricing options before you register for your first Perennial Workshop. The pricing options are the same for all events, so you only need to do it once!
Related Events