Build Your Own Carving Knife: A Riveting Hands-on Experience w/ Gray Taylor
November 18
@
10:00 am
–
2:30 pm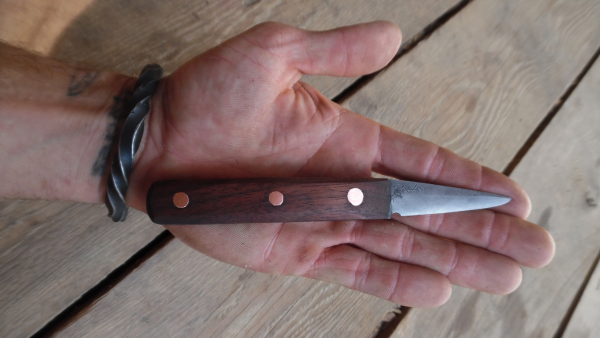 About this Carving Knife Making Workshop
Join knife-maker, farmsteader, and long-time Annual Firefly Gathering instructor Gray Taylor in the step-by-step process of finishing your own carving knife! From making the handle for a full tang carving knife to caring for and sharpening your knife safely, at the end of this workshop you will walk away with a beautiful, unique, and functional hand-forged carving knife — and a new appreciation for rivets!
In this class, participants will:
Make rivets from copper grounding wire
Use rivets to attach a hand-forged carving knife (made offsite beforehand by the instructor) to a handle blank made from native Southeastern hardwood. This mechanical connection holds the components of the knife together.
Shape and finish the knife handle
Learn how to care for, sharpen, and use their knives safely in any environment
Learn how the skill of riveting can be transferred to repairing other household tools with mechanical connections
Gain comfortability with new tools and skills for increasing self-sufficiency
The knife blades available for this class have all been hand-forged by the instructor using 5160 tool steel, which is most commonly used as spring suspension in vehicles.
Carving Knife Making Workshop Details
This class will be held outdoors on Saturday, November 18, 2023 from 10 am to 2:30 pm in Asheville, NC.
This class is for everyone. Bring a bagged lunch, water, and a notebook to take notes. We'll be standing at a table as we work, so bring a chair if you'd like to sit down. Minimum age is 16.
About the Instructor Gray Taylor
Gray Taylor was born and raised in the foothills of North Carolina. He now resides in the piedmont of NC on a communal farmstead project that touts annual/perennial gardens, burgeoning food forest, micro-ponds with native wetland plants and more. Being on this land is what has continued to push him to learn the skills that our ancestors did not take for granted because their livelihood was dependent on growing food, building with natural materials and using every last piece of scrap.
Equitable Pricing Model $160 – $110
In order to make our workshops more accessible, we offer two price options for each class, with an additional Equity Discount for qualifying individuals. Please consider these options and select your price at checkout.
Sponsor Price $160: For those who have enough to share, thank you for being a Sponsor. This is an opportunity to contribute towards the cost of the class for someone else.
Standard Price $135: The Standard reflects one person's share of what it costs to produce the class and cover basic expenses.
Equity Discount $110: We offer an additional Equity Discount for those from the following communities who support reparations and/or an equitable redistribution of wealth and would not have access to this workshop without this discount:
Thank you for helping transform the world into a culture of abundance, resilience, and opportunity for all.
Which Price Option is Right for You?*
*Please check your pricing options before you register for your first Perennial Workshop. The pricing options are the same for all events, so you only need to do it once!
Related Events