Firefly Gathering Instructor Emily Bell is a creature of the woodlands, with a heart that finds solace in the quiet and calm of the mountain creeks and forested hills. She first started teaching at the Annual Firefly Gathering in 2017, in addition to her various staff roles with us throughout the years. In this interview, Emily shares with us the healing power of using one's hands to create sacred, practical tools. You can learn more about what Emily's up to at her website, Rhythm and Ritual. 
Nastassja Noell (NN): On your website you say, "What if our most menial tasks became our most potent rituals? It's time to let the magic unfold." Can you share one of your experiences of the magic unfolding?
Emily Bell (EB): It's often during the times when I am focused on a simple task that I can quiet my mind enough to allow for big energy to move and for insights to flow. When I speak about our most menial tasks becoming our most potent rituals, I speak of the concept of slowing down and how radical this notion is in our fast paced culture. 
For me, the magic unfolds when I can surrender. Surrender to the day, surrender to the movement, surrender to the simplicity of life. The tending of my home, my space, my energy. I also feel such potent magic when I practice anything with an intention – and in my daily practices of sweeping, I am able to anchor these intentions into my being through grounding into the present moment through my tasks.
NN: Our busy culture seems to see mundane tasks as unworthy of our time. How did you arrive at this place of embracing the mundane as sacred?
EB: I think raising children has taught me a lot about this! When my daughters were younger I was able to homeschool them and I learned so much from watching their approach to life! 
The way they would get so excited about helping me sweep the floor, wash the dishes, mix together ingredients to bake, take a simple walk outside and discover magic everywhere – It was through their eyes that I was re-awakened to the sacredness of everything. And the key seemed to be innocence.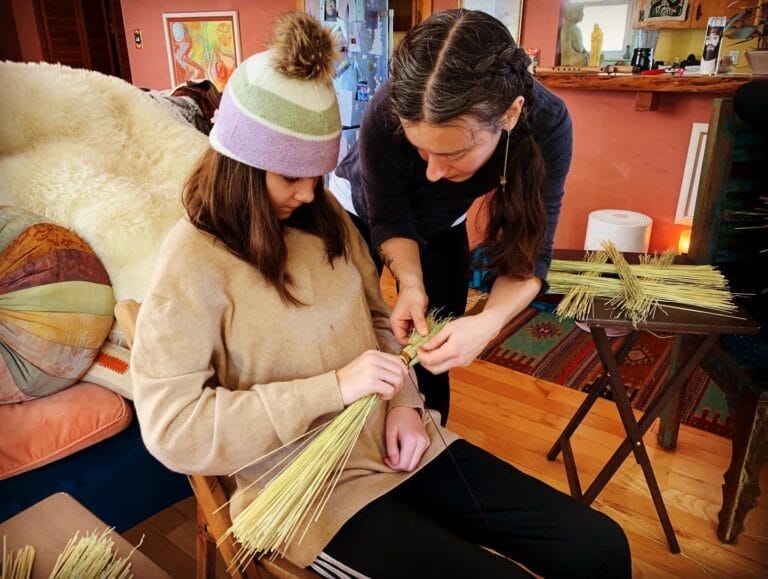 NN: How did you get into broom making?
EB: It was quite fortuitous! I had applied for and been awarded a scholarship to take a week long class at the John C. Campbell Folk School. I had signed up for a felt making class and had all of my travel arrangements set to be down there – an airbnb rented and my folks were going to stay with me to watch my daughter who was 3 at the time (I was 7 months pregnant with my second when I took the class).
I was informed that the felt making class was being canceled due to low enrollment and that I could come back another time or choose another class that same week. Since everything was already set – I decided to have a look at the other classes and broom-making sparked my interest. I had never even considered making a broom before but I was drawn in by the class description. I completely fell in love after the first day – I loved the marriage of practicality and beauty in crafting brooms. I ended up going back to the Folk School two more times for week long broom-making classes!
NN: Your upcoming Perennial Workshop with Firefly is about turkey wing whisk brooms – how are those different from other types of brooms?
EB: A turkey wing whisk broom is a small handbroom that is said to have been modeled after a real turkey wing, whisk people used to use to sweep with. It is made by wrapping many bundles of broomcorn together – fanning out flat in a wing shape. It's a beautiful design that is both aesthetically pleasing and functional!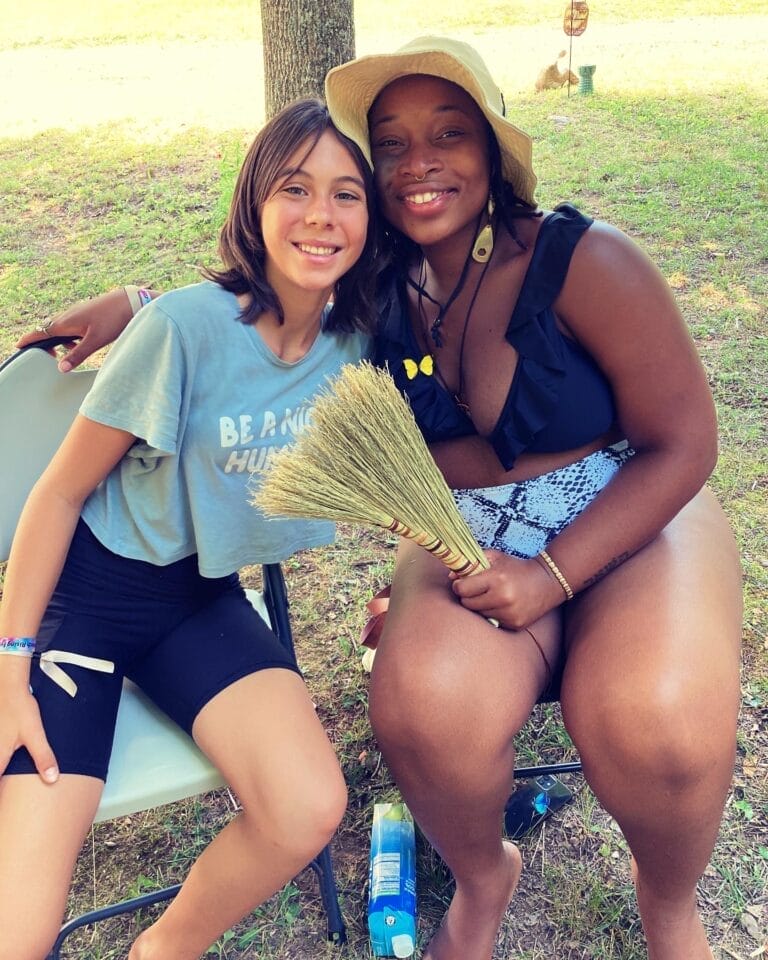 NN: What are your favorite materials to work with when making brooms? Have your materials changed over time? Have your broom styles changed over time?
EB: I primarily work with broomcorn – which is a type of sorghum. Over time I have also incorporated a variety of plants into some of the whisk brooms I make – sometimes wildcrafted medicine plants and also flowers that I grow from seed that are known to be good flowers for drying. I love bringing beauty and also potent herbal allies into my brooms – especially the ones I make to be used in ceremony and energetic clearing.
I have certainly evolved my styles over time – the first few years just repeating the techniques that my teachers shared with me and after building a strong foundation, trying variations of these techniques and adding my own artistic flair. 
NN:You share on your website that you bring your connection with the Divine Feminine into your classes, can you share more?
EB: Yes, thanks for asking! I really strive to create an environment in my classes that is not only action/goal oriented – but deeply connective as well. I believe in the importance of tuning into our emotional bodies and awareness as a way of tapping into our creative potential. 
I start my classes in a soft, slow, reflective way to set the tone for this.
I also really encourage each student to take the form that I am teaching and lean into their own unique expression. I absolutely love the way that we each process information so differently – that I can give the same instruction and there can be so many different expressions that are born from that teaching! 
Learn more about Emily and check out her upcoming workshops at Rhythm and Ritual.
About the author:
Nastassja Noell is a lichenologist and Firefly Gathering's Registration Coordinator. She loves weaving stories about ecological research and is a proud recipient of the United Plant Savers Deep Ecology Artists Fellowship. You can read more about her here.