Firefly Gathering has so much to celebrate when it comes to families who show up year after year to build deep connections with the Earth and community. This Father's Day, we are excited to honor Grant Adkisson, one of our long-time instructors and father of one rambunctious toddler, a brilliant border collie, two gentle giant Livestock Guardian Dogs, and a motley crew of livestock including sheep, goats and pigs. Grant is also the co-founder of Corylace Cove, a woodlands, homesteading, and traditional crafts program for youth and adults just 30 minutes outside of Asheville, NC.
With his variety of classes at Firefly and upcoming summer camps at Corylace this July – August, we are delighted to share more about Grant's gifts with you this Father's Day! In this interview, Grant shares his background in his diversity of skills- from Martial Arts to Metalwork- and how teaching continues to fuel his passion for learning. Read more about Grant and Corylace Cove below, and join him for his classes this year at Firefly Gathering, June 20-25.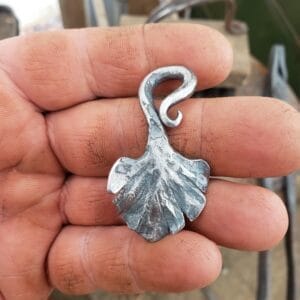 What skills do you primarily teach, and how long have you been teaching them?
I have a hunger for learning and a drive to teach others. I have been teaching Blacksmithing basics for 10 years, Youth Programs for over 20 years, and also teach other forms of metalwork, Tai Chi/ChiKung, Mead Making, Meat processing/butchering, and more.
What draws you to teach these particular skills?
I've been interested in Martial Arts since I was young and enjoyed outdoors skills and pursuits since my childhood as well. I have been training in Kung Fu and Tai Chi with two different masters since 1998. I got started working with youth when I was a teenager and became a Counselor in Training with a wilderness skills camp. I've been making mead since 2008, and first learned about Blacksmithing at a gathering in 2010, where I went on to apprentice for many years with an instructor that I first met at Rendezvous. 
I am especially drawn to sharing skills that empower people to take care of themselves, be an asset to their community, and be proficient in a variety of things. I really enjoy teaching in general and especially aspects of skills that I am passionate about and pushing my edges on. I teach Mead making because I love making great mead. I teach smithing because I love applying heat and pressure to make something unique and beautiful and it engages me fully in the moment of creation. I love Push Hands and the more that I teach folks the more folks I get to push with!
I have found that a tough question from a student is a perfect opportunity to grow as an instructor and practitioner of any skill. Being able to do the skill is one thing, but being able to break it down and effectively transmit the key elements and the WHY of something is a whole other level.
How long have you been living this lifestyle? Was there an "Ah-ha" moment for you? Or was your upbringing a lot like your life now?
I would spend every free minute in the woods as a kid and could sit still for hours alone in the hopes of seeing a hawk, deer, or bobcat. I severely injured my leg and couldn't continue working in the restaurant/bar industry so I "dropped out" of the town life in 2010 and never really looked back, choosing to travel, camp hundreds of days a year, and attend as many gatherings as I could for years. I lived off the grid on and off for about 7 years and then dove into regenerative agriculture and homesteading in earnest raising sheep, goats, pigs, and cows and processing them ourselves for the last 5-6 years. 
It makes a lot more sense for me to live modestly and provide as much as I can for myself vs depending exclusively on the grocery store and working a standard 9-5. I spend more of my time working on the land and being in nature than ever before.
Why is it important for people to do Earthskills? Why should someone do this skill?
I believe it is one of the rare events and paths where people are inspired to step away from mainstream society in a way that enriches the world they engage with, both human and natural. There is far more joy and satisfaction in making your own path while engaged directly with nature. I enjoy a bottle of my own wildcrafted mead immensely more than any wine in the store, and time spent crafting or gathering with friends is far more enriching than any amusement park, movie, or bar. These events are participatory versus spectator events, this engages all of the participants to connect with each other and the skills in a dynamic and embodied way. 
It's inspiring to see how many folks' lives are changed by coming to these events, and how many folks make dramatic shifts in their lives as a result (just like me). When we are connected to and bonded with the natural world we are willing to protect it and do more to preserve its integrity.
Blacksmithing, Martial Arts, Mead Making, Nature Connection, Wilderness Skills, and food processing/preservation are all useful and tangible skills that benefit you in a number of ways…many of these skills are more valuable than gold and they grow in abundance the more they are shared and explored.
What do you think is the single most important thing folks can do right now to make the world a better place?
Cultivate your connection to natural places and do anything you can to protect them.
Were there any influential folks in your life who helped you find this pathway?
Lots of inspiration from the Earthskills community and all the folks I've known in the Asheville area these last 20 years or so. These skills wouldn't be so vibrant and widespread without folks like Steve Watts, Walker Calhoun, Snow Bear, and Darry Woods to name a few. They inspired so many others to take up the skills and keep some of these things going all these years. There are too many to name but I think being immersed in it and making so many connections with the folks up and down the east coast has made life richer than I could have imagined. My friends who started Firefly like Natalie Bogwalker as well as folks like Marc Williams and Alex Kilgore that gave me personal introductions to events like Florida Earthskills and Earthskills Rendezvous helped to welcome me into the community in a really generous way.
What is happening at Corylace Cove this summer?
Corylace Cove is our new company offering Earthskills classes for youth and adults. We have a few summer camps still available this summer, including a Craft Camp for 5-12 year olds in July and two Blacksmithing Camps for 12-17 year olds on our farm in Mars Hill, NC. There is also a Teen Overnight Camp on the South Toe River where we will be fishing, swimming, crafting, and training in martial arts during the month of August. 
We are running weekly homeschool programs this fall with Blacksmithing classes, Roots and Branches Teen Program and Hearth and Harvest for kids aged 5-12. We will also be offering workshops for adults focused on Blacksmithing and home butchering  this fall. Click here to learn more.
What does The Firefly Gathering in particular mean to you?
Firefly is my home team gathering and I have a lot of great connections built here over the years. I have seen kids grow into adults and even parents of their own over these years and in many ways, this is a community gathering, something we look forward to.
Finally, what is one of your favorite memories from an Annual Firefly Gathering?
I love swimming with so many friends, the faces in the firelight, watching our children grow up and the excitement of a new skill in students' eyes.
We are delighted to have Grant back at the Gathering, and for all the awesome fathers that lead the way for their children in connecting deeply to the earth. Check out Grant's class offerings at Firefly Gathering 2023 on our Live Class List, including Copper Smithing Wilderbling, Copper Spoons, Tai Chi Push Hands, and Magical Mead Making. Online pass sales have ended, but passes are still available at the gate (gate fees apply). Learn more here.  After Firefly, join Grant at Corylace Cove in Mills River for more earthskills opportunities for your young ones!