Sewing Buckskin Pouches with Rain Hall
January 14
@
10:00 am
–
2:30 pm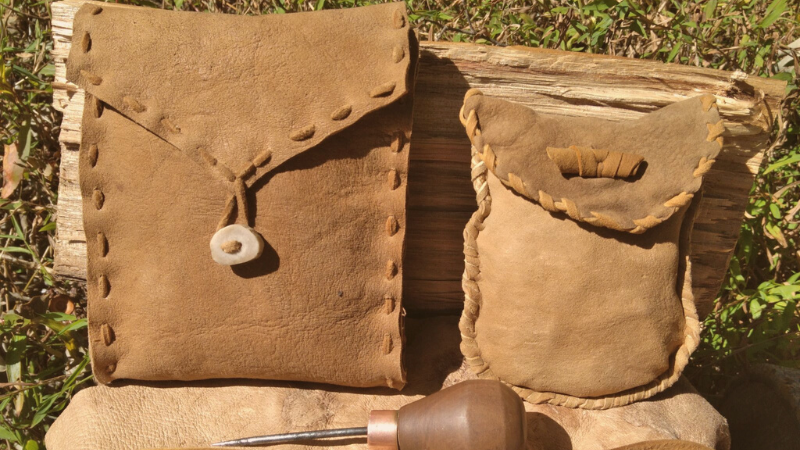 We are countering waste culture and consumerism by using the often discarded deer hides to make something beautiful with our own hands that was not bought in a store or mass produced. When we are learning, sharing and using these hide sewing skills, we are re-learning connection to the wilderness, the earth and that which provides and sustains us.  - Rain Hall
Sewing Buckskin Workshop Description
What is buckskin? How is it made? And how do we use it to make everyday garments and useful items that can last a lifetime? Join our beloved Annual Gathering instructor, Rain Hall, to learn the basic skills for crafting with buckskin. In this hands-on class, learn as you work to make your own buckskin hip/belt pouch or bag to take home!
In this class, Rain will cover:
The how's, why's, and what's of buckskin
Basic patterning skills and how they apply to buckskin
Cutting thong for lacing
Using a cool special threaded needle for hide sewing (optional)
Use of an awl
Applications of various stitches, including: running stitch, whip stitch, and X stitch
Sewing Buckskin Workshop Details
This class will be held indoors on Saturday, January 14, 2023 from 10am – 2:30pm near Asheville, NC.
We'll start out with a circle meet and greet, an introduction to buckskin, then students will make or select patterns and cut a buckskin thong. After that, we'll learn how to use awl pokes and basic sewing stitches. This will be a relaxed, creative, sewing and stitching circle with guidance along the way!
This class is for everyone. Minimum age is 13.
What to bring:
Notebook and writing utensil
Water bottle
A snack / lunch
Scissors, awl (tools will be provided but bring your own if you can!)
Folding chair to work at the table (optional)
About the Instructor Rain Hall
Rain Hall (she/her) is a homesteader and feral child wrangler nestled in the heart of Piedmont, NC. Some years ago she was taken with what we call "Hide Fever" and has been tanning deerskins into buckskins ever since. For Rain, hide fever spread into a love for creative buckskin sewing, crafts, and garments. Her favorite ways of connecting with her ancestors and the spirits that be are processing animals for meat and hides, tanning hides, picking berries, and tending the little wild ones as one tends a small delicate fire.
Equitable Pricing Model $75 – $25
**NOTE: Prices do not include materials fees, which will vary depending on student projects and will be paid directly to the instructor. $40-60 for buckskin tanned by Rain, $5 per handcrafted button. Cash or check only.
In order to make our workshops more accessible, we offer two price options for each class, with an additional Equity Discount for qualifying individuals. Please consider these options and select your price at checkout.
Sponsor Price $75: For those who have enough to share, thank you for being a Sponsor. This is an opportunity to contribute towards the cost of the class for someone else.
Standard Price $50: The Standard reflects one person's share of what it costs to produce the class and cover basic expenses.
Equity Discount $25: We offer an additional Equity Discount for those from the following communities who support reparations and/or an equitable redistribution of wealth and would not have access to this workshop without this discount:
Thank you for helping transform the world into a culture of abundance, resilience, and opportunity for all.
Which Price Option is Right for You?*
*Please check your pricing options before you register for your first Perennial Workshop. The pricing options are the same for all events, so you only need to do it once!
SOLD OUT – Want to add your name to the Waitlist? (click here)
Related Events