Broom Making: Craft a Turkey Wing Whisk Broom with Emily Bell
January 28
@
10:00 am
–
1:00 pm
For more broom making classes with Emily Bell, check out her website: https://handmadebrooms.com/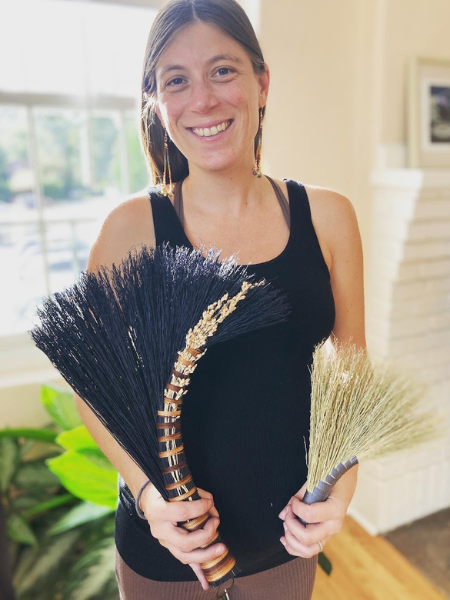 Broom Making Workshop Description
Join Emily Bell of Rhythm & Ritual for a morning of broomcraft and connection! More than a handcrafts class, Emily creates a grounded space for participants to settle in and create with intention.
During this workshop, students will:
Learn about and work with broomcorn, a variety of sorghum – and the plant that has been traditionally grown on many an Appalachian homestead for the purpose of making simple brooms for tending hearth and home
Become acquainted with the tools and tips of the trade
Have an opportunity to make their own large AND small turkey wing whisk brooms for practical or ritual use – or both!
Come join us and you'll leave with a sense of accomplishment, as well as beautiful and functional brooms, and joy as you learn this traditional Appalachian craft.
Broom Making Workshop Details
This class will be held indoors on Saturday January 28, 2023 from 10 am – 1 pm in Asheville, NC.
We'll start the workshop with an opening introduction and meditation, followed by a broom making demo. Then students will craft their brooms and we'll close the space together.
This class is for beginners, but requires moderate hand/upper body strength. Minimum age is 13 and participants under 16 must be accompanied by an adult.
About the Instructor Emily Bell
RHYTHM & RITUAL was born of a deep inner knowing. Of a whisper on the wind, the voice of an ancestor, the strength of a woman. A business that is alive and ever-evolving, as we all are. Emily's gift is in weaving the essence of her connection to the Divine Feminine into the handcrafts that she offers. Her gentle, grounded presence enables her to be a patient teacher and she loves sharing the devotion to her craft with others.
When Emily is not in her broom workshop, you can find her tending to plants, making medicine, celebrating with community, plunging in creeks, teaching children, studying spiritual texts, or learning new skills.
Emily is a creature of the woodlands. With a heart that finds solace in the quiet and calm of the mountain creeks and forested hills, Emily brings a deeply grounded and embodied presence to her work.
She believes in the healing power of using one's hand to create sacred, practical tools.
Intentionally made, her brooms hold this resonance.
Equitable Pricing Model $70 – $30 (Class price includes $10 materials fee)
In order to make our workshops more accessible, we offer two price options for each class, with an additional Equity Discount for qualifying individuals. Please consider these options and select your price at checkout.
Sponsor Price $70: For those who have enough to share, thank you for being a Sponsor. This is an opportunity to contribute towards the cost of the class for someone else.
Standard Price $50: The Standard reflects one person's share of what it costs to produce the class and cover basic expenses.
Equity Discount $30: We offer an additional Equity Discount for those from the following communities who support reparations and/or an equitable redistribution of wealth and would not have access to this workshop without this discount:
Thank you for helping transform the world into a culture of abundance, resilience, and opportunity for all.
Which Price Option is Right for You?*
*Please check your pricing options before you register for your first Perennial Workshop. The pricing options are the same for all events, so you only need to do it once!
For more broom making classes with Emily Bell, check out her website: https://handmadebrooms.com/
Related Events