Jessica Kaufman (she/her) has an MA in crafts education and is the owner of WAXON Batik & Dye Studio in Asheville, NC.  With over 22 years of teaching experience, Jessica has taught a wide variety of fiber and textile arts to summer campers, school children, high schoolers, and adult workshops up and down the East Coast.  Her enthusiasm for teaching is apparent in every class she leads.  Jess maintains over 80 free knitting videos at HappyGoCrafty.com, and is the owner of WAXON Batik & Dye Studio in west Asheville. Come join Jessica at her Hand-Dipped Beeswax Candle Making workshop on December 17, and learn more about her in this one-on-one interview!
NN: We're so excited that you're teaching a hand-dipped candle making workshop with Firefly! And we're thrilled that you're using recycled wax from WAXON Studio's batik process. So many of us save old wax and don't know how to reuse it. What do you love most about making hand-dipped candles?
JK: I think it's centered in the memories that I have from teaching dip candles over all the summers that I taught at a nature camp in Brevard, NC. I was the candles & dyeing teacher and I taught hundreds of kids to make candles, every day, all summer long, for 16 summers! The smell of the wax, cutting the wick, heating up everything before class, it all gives me great flashbacks to the long summers that I worked in the crafts cabin at camp. It was messy and exhausting but it honed my organizational skills, my ability to teach young people, and taught me how to train other folks to teach and run a crafts program.
There were plenty of times I thought I couldn't be more sick of candlemaking, but fortunately, enough time has passed that I'm newly excited about it again! Especially since I can teach folks how I harvest and reuse precious beeswax from the batik process. Because my small biz is a batik studio, we go through a ton of beeswax each year, and it feels horrifying to imagine tossing it or wasting it. We all know how special bees are, and I really want to honor the fact that beeswax is eminently reusable.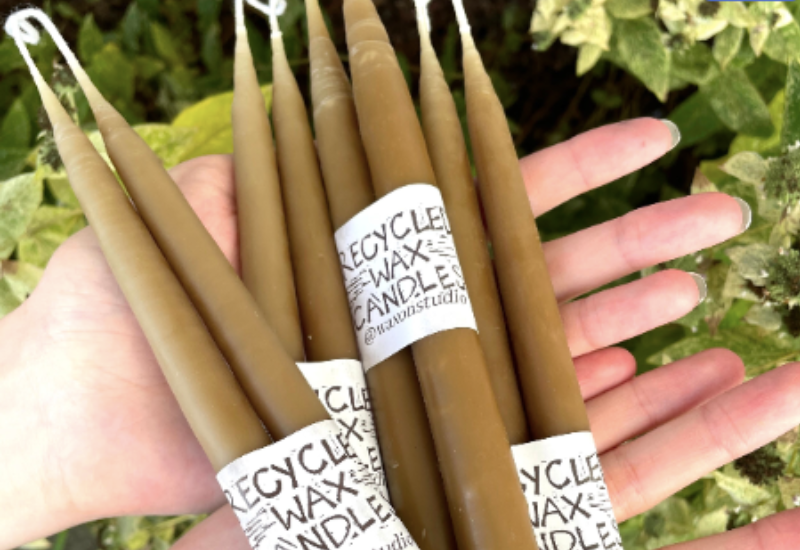 NN: The photos of your knitting on your website happygocrafty.com are exquisite! Your website shares that you have an M.A. in Craft Education and that your teaching style involves empowering students to make their own patterns in knitting and other crafts. Can you elaborate more on how you empower folks to craft outside of the box?
JK: Thank you. My most precious possessions are the stacks of handknits that I have in a cedar chest in my apartment. I've been knitting for myself and others since 2007. At first, I was too impatient, when I had just started knitting, to follow a pattern. As a triple Aries I liked to go fast fast fast and as a young person I was haughty and thought I knew everything, so I eschewed patterns and protocol and just started making up my own everything. It was clear that I had talent, and I got away with coasting on my own creativity, but of course, I had often had frustratingly irregular results and I didn't need to be reinventing (or ignoring) the wheel. I learned a lot as I continued my own craft practice across multiple fiber and textile arts throughout my 20s and 30s. For example, which parts of structure are important to honor, and when improvising is the best tool for the project. 
Now, as a more moderately-paced adult in her early 40s, I can see the benefit of working with the received knowledge from craftspeople who have already figured out a lot of these patterns and processes, and I have slowed down my need for urgency and finishing ahead of schedule. I think I now have the balance of that hotheaded young super-crafter who couldn't be told anything by anyone, and also the thirst for learning and respect of others who definitely know more than me. So when I teach, I can empathize with and respect my students no matter their learning style or how much/little patience they have for process.
NN: What drew you into crafting and craft education? Was there a spark moment when you were like "this is what I want to dedicate my life to"?
JK: Absolutely! I was a performance major (musical theatre & dance) and I grew up in a household of musicians, but my favorite relatives were always my great aunt & uncle who lived in Penland, NC and were deeply involved in the American Craft movement of the 20th century. My uncle was quite a famous ceramic artist (in those circles) and he had made a life and career in clay. I felt so alive whenever I visited their handmade home in the mountains, and was inspired by the community they had, all of whom were professional craftspeople. 
By the time I was in college nearby in Boone, I was already spending my free time sewing my own clothing, knitting & crocheting for myself and for friends, hand binding books and journals, and throwing pots, because I was emulating my amazing elders. I still do. My great aunt still lives alone in that house in Penland, and she'll be 96 this month. She is surrounded by craft. My own spaces are testament to my love affair with fibers, pattern, and history.
NN: There's something so poetic about the steady rituals of dipping candles and knitting, something I imagine can help ground us during these times of unrest and upheaval – is that steady feeling part of what inspires your craft?
JK: It's true that we're deeply soothed by repetitive motions that build up to a finished object. When all feels chaotic around me and inside me, I seek solace in my quiet time single-tasking on a craft that requires me to do nothing but the same movement over and over, building something that didn't exist before. Whether it's dipping a candle wick until it has a nice thick candle surrounding it, or combining knits and purls into yet another sweater, it's amazing to watch my worry & anxiety be soothed and my time be put to good use. It's the antithesis to scrolling. All that time can be put to building something that is useful, beautiful, and important.
NN:  We can't wait to get to learn more from you! What classes and events are you dreaming up for 2023?
JK: I will be excited to teach again in the spring, and then again at the annual gathering. There are so many crafts that I have experience in leading, from cross-stitch & felting wool to all kinds of levels of knitting… we'll see what I'm in the mood to teach once it's time to submit classes again! I think that Sashiko embroidery (in the Japanese style, key to the "visible mending" movement) is incredibly useful and easy to teach, so I'd like to see more needlework on my 2023 calendar. If there's a way I can figure out how to teach batik to suit the earthskills crowd, I'll do that! But I confess, my batik practice is fully reliant on electricity, so it might have to stay put at my studio. 
Learn more about Jessica's upcoming workshop with Firefly here!
Photos courtesy of Jessica Kaufman and JP Goguen