With expansions in our Equity Committee, Equity Fund, and plans for what this work looks like at the Annual Gathering itself, we are excited to share these updates you, our incredible community. We invite you to read more about our current equity work and more about how you can support these efforts.
Want to help welcome more people of the global majority at this year's Gathering? Click below to make a donation today. We thank you for being an integral part of this shift, and can't wait to gather together with you this June!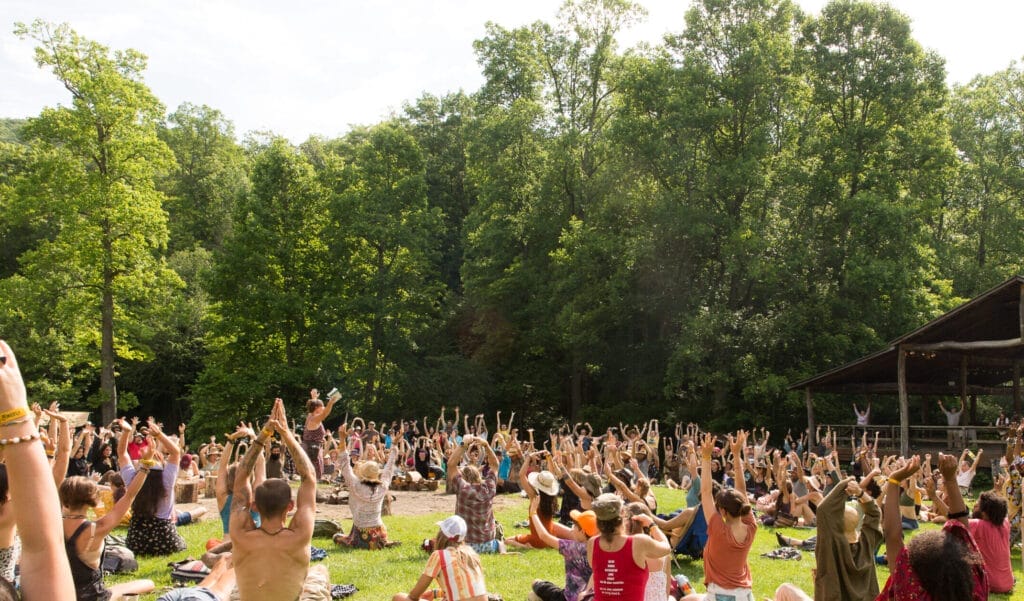 The Firefly Gathering has been going strong since 2007. The first event had just a few hundred people who shared a burning desire to live more connected and sustainable lives. Since then, we have steadily grown, transitioning into a nonprofit in 2019. Then 2020 brought times of social distancing, shutdowns, and shortages, highlighting the fundamental importance of skills for building sustainability, resiliency, equity, and community in our personal and collective lives. 
What Firefly represents began to resonate with more people as not just folks gathering to do weird hobbies in the woods, but people redeveloping their relationships with the natural world and finding the abundance therein. And so we've seen a huge growth in the number of people interested in our organization and offerings, especially people of the global majority.  
This is incredibly exciting for us! Martin Luther King, Jr. said, "Injustice anywhere is a threat to justice everywhere," and this deeply resonates today as we work to co-create sustainable and equitable communities. Firefly has been doing forms of equity work since 2013, such as our Equity Fund (see below), and hiring Isa Whitaker as our Equity Advocate in 2018. Recent societal events and new leadership have led to a renewal in energy in these efforts. 
Historically, earthskills gatherings and programs nationwide benefitted from the teachings of global majority communities, while neglecting to offer acknowledgement, classes, programs, and support to those communities in return. Firefly is committed to interrupting this extractive point of view. In the inspiring words of Angela Davis, "In a racist society, it is not enough to be non-racist. We must be anti-racist."
Equity Committee & Leadership
In an intentional step towards supporting ALL people in having access to nature and earthskills, this year we have expanded Firefly Gathering's Equity Committee. Composed of folks predominantly from the global majority, the Equity Committee serves to advise the Board and Executive Director of The Firefly Gathering in developing systems and strategies to realize our goals as an organization with equity at the center. As a part of this, the Equity Committee is steering our Annual Gathering and year-round work toward more inclusivity and responsiveness to the needs and experiences of everyone who participates.
To continue growing at a structural level, we know that one of the first steps is welcoming people from historically marginalized communities into positions of power, where decisions are made as a community. In addition to our Equity Committee, Firefly is also encouraging folks from the global majority to apply for positions on our Board of Directors and staff, and allocating funds to bring in more instructors from this community. As our fundraising efforts as a young nonprofit begin to grow and bear fruit, we look forward to having more resources to continuously transform Firefly into a mighty vessel of change and transformation.
To make our annual Firefly Gathering more accessible to everyone, we are cultivating our Equity Fund. This Fund is available to welcome and support the experience of Indigenous or Native American, Black, Latino/a/x, and other peoples of the global majority at the Annual Firefly Gathering. We offer this support with the hopes to nurture a powerful diverse community of earth-centered people steeped in the knowledge and skills that Firefly has to offer. We also welcome the wisdom that flows into our gathering from these participants.
This year we are working to expand this Fund to assist more people, as well as compensating folks for the hard work they are doing to help us grow in this direction. We are currently working to raise funds, increase sponsorship and explore grants to help support the amazing growth that we are experiencing in this arena, including raising money to help fund The Block Party (details below). Make a donation HERE to help this fund grow and support Firefly in its goal to support and represent people of the global majority for our 2023 Gathering and beyond.
Firefly is also working hard to create a support system for those who we seek to welcome because we've learned that it is not enough just to bring people to the event; we also have to care for them once they're there. At the Gathering this year, we are excited to expand The Neighborhood, a space that embraces different experiences that are specific to different groups, where every body at the event has a place to go and relax: women, men, LGBTQIA+, and Culture Camp for people of the global majority. Last year, The Neighborhood brought the Friday night Block Party, a beautiful multicultural offering that combined cumbia, carne asada, mofongo, and Taino folks telling the colonization story of Puerto Rico. 

This shared village will be offered again this year, along with a harm reduction support crew. In bringing these many different perspectives together, we create authentic spaces where disagreements are bound to arise; it is what we do next that is so important. We are committed to offering calming and affirming communication practices and places inside the event to help people work through disagreements. 
We also acknowledge that we gather on stolen land and live in occupied territory. To help us navigate this historical reality, we are building close relations with Bigwitch Indian Wisdom Initiative and other members of the ᎠᏂᏴᏫᏴ (aniyvwiyv ): THE ORIGINAL PEOPLE to work towards a just transition and more sustainable future. Together, with members of the Catawba Nation and Muskogee peoples, we are forging pathways forward that include landback initiatives and indigenous stewardship initiatives. We welcome these indigenous perspectives into our community and our organization.
Over time, our goal is to build these deep relations and transform The Firefly Gathering into a community-based force of change that is as diverse as the world we walk in. Through our growing efforts with the Equity Committee, Equity Fund, and intentional relationship building, we continue to deepen our commitment as we witness the beauty of its unfolding. 
We know that we will make mistakes. It's not a matter of if; but when. We will say the wrong thing at the wrong time; we will stumble and fall on the road to freedom for all beings. This is how we will learn, together. We do not claim to have all the answers; we just know we can no longer look the other way and wait for someone else to fix things. As Rosa Parks said, "To bring about change, you must not be afraid to take the first step. We will fail when we fail to try." 
We commit to working together to find a path of healing for all beings and invite you to connect, listen, share gratitude, and consider your impact wherever you stand. Learn more about our Equity Fund here, and stay tuned for more updates from our Equity Committee and plans for the Annual Firefly Gathering. We can't wait to Gather with all of you again this June.